Here are some of the most Frequently asked questions about Bath Resurfacing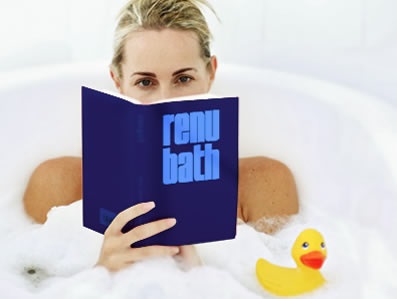 Q – How long does it take to resurface a bath?
A – between 5 and 7 hours.
Q – How long before you can use the bath after bath resurfacing?
A – The very next day. Many years ago you had to wait 2-3 days or even 7 days. However we use the most advanced material to resurface your bath. We ask you to leave the bath 24 hours. If you get our famous Rolls Royce Treatment the bath will be cured that day. You can run your hand over the bath before the technician leaves.
Q – What is the Rolls Royce Treatment?
A –  Our famous Rolls Royce Treatment is so called as it is basically the same procedure used on your bath as Rolls Royce, Bentley and such high end car companies use to finish their cars.
We apply the materials thicker than normal when we are resurfacing the bath. Then we cure the bath completely with infra red lamps. After this we polish the bath. This will get rid of any tiny dust particles that may land on the bath as it is curing. We are the only company that provides this service as standard. Most others avoid any polishing as it adds 2-3 hours to the job. They would rather go and do another bath than give your bath this extra special finish. The Rolls Royce finish gives a deep high gloss finish that is extra smooth and easy to clean. You can run your hand over the bath when our technician has finished resurfacing your bath.
Q – Do you Resurface baths in London?
A – Yes we do. From private residence to The Bank of England. We cover all of London with our restoration services.
Q – What areas do you cover?
A – We cover all of London with our resurfacing and re enamelling services as well as the Home Counties, Hertfordshire, Croydon, Bath, Bristol, Cirencester, Brighton, Swindon, Manchester, Eastbourne, Sussex and Surrey. We can reach most area of the UK as our chaps do travel. If in doubt fill in our Quick Quote Form we will let you know right away.
Q – What is the life-span of a resurfaced bath?
A – By adhering to our After-Care advice and given average usage, baths can last easily up to ten years and even more! We have done baths over 20 years ago that are still fine.
Our technicians are fully trained. And we are constantly training and improving their skills. Factually a technician who worked for us 5 years ago would not be as good a our most recent recruits. The system and materials we use are the best. We have been using this basic system for over 30 years but we are constantly improving the materials and methods as well as staying up to date with Health and safety policy. With all this added together we know it works and you can expect many years off use from your bath.
Q – Can you resurface my Shower Tray?
A – Yes. To white or any other colour.
Q – My bath is plastic. I want to resurface it because removing it would cost me a fortune in re-tileing and redecorating. Can you resurface a plastic bath?
A – Yes. Most of the baths we resurface are cast iron or metal baths but we can resurface acrylic and plastic baths as well as pressed steel and cast iron- to any colour. Often we resurface a plastic bath due the costs that would be incurred replacing the bath. The results are stunning!
Q – Can I change the colour of my bath to white?
A – Yes. We can make your bath, or even your whole bathroom suite, white. This is one of our most popular services. Often coloured bathroom suites are great quality suites. But the colour might not suit modern tastes. When we resurface it it can look incredible. You don't lose the quality but your bathroom looks up to date and you get a suite that is easy to maintain. Resurfacing a coloured bathroom suite to white can save a fortune in replacing a bath or bathroom suite and the result is breathtaking!
Q – Can I resurface my bath to it original colour?
A – Yes. We frequently resurface cream, lemon or avocado baths back to their original glory. They look beautiful when newly restored and this is very easy to maintain. These suites do tend to be very high quality. They are worth saving. We can colour match on site to match your existing sanitary ware for a coloured bath. Our technicians have been specially trained in this service and will get the colour as close as humanely possible. Please see the colour matching section to find out about colour matching. We do have a range of 24 pre-mixed colours but our technicians are so skilled at colour matching we recommend our on site Colour Match & Mix service.
Q – Can you change the colour of my bath to a colour of my choice?
A – Yes. We have had requests to recolour a white bathroom suites black, Gold, Red, Orange and also Multicoloured. Any colour you can think of can be done. These bathroom suits do look stunning! Please see the colour matching section to find out about colour matching. We do have a range  of 24 pre-mixed colours but our technicians are so skilled at colour matching we recommend our on site Colour Match & Mix service.
Q – Can I have the whole bathroom suite resurfaced?
A – Yes. We can resurface the whole suite, including the toilet, to any colour your choose. You might have an old 1970's suite or a stunning Art deco suite. These cannot be replaced. Resurfacing these suites makes them look and feel new again and enables you to keep your original suite. Fill in our contact form for more information and a quick quote.
Q – I just have a little chip in the bath. Can you fix that?
A – Yes. Our technicians are specialist in chip repairs. We can sort out chips in baths, basins or shower trays. The chip repair service works best on relatively new baths that have 2-3 chips.
Q – My bath/basin is cracked. Can you fix that?
A – Yes. We have developed a specialised technique to repair cracked items. There is the odd occasion when a repair is not possible to cracked items. If you email us pictures to info@renubath.co.uk we can confirm if the item can be repaired and provide a quote.
Q – How should I clean my bath after it has been resurfaced?
A – The bath is very easy to clean after we have resurfaced it. Particularly if you have our Rolls Royce treatment. Most liquid cleaners such as liquid Flash can be used on a resurfaced bath. Do not use cream cleaners on a resurfaced bath as they will scratch the bath.
Q – Shall I have a Renubath treatment at the beginning or the end of my bathroom refurbishment?
A – As a general rule, all Renubath treatments should be undertaken after all other major works are complete, such as tiling, decorating or any plastering. If you are planning on wallpapering or painting the bathroom that is best done after we have resurfaced the bath or bathroom suite. We mask up the whole room so new wall paper is best put up after we have resurfaced the bath. The application of a mastic sealant around the bath can be left until after we come. This can be applied by a Renubath operator in most cases, after the bath has been treated. However, if it will be a few weeks before we come then mastic should definitely be applied as we can easily remove it to do the job and then replace it at the end of the resurfacing.
Q – Should I remove the taps and waste before you come?
A – There is no need. We mask around these. If however you want to replace the taps or waste you should do so before we come and resurface the bath. If the plumber accidentally chips the bath in the process there is no harm done. We will repair any damage when we come to resurface the bath.
Q – Are you VAT registered?
A – Yes. We think we are the only bath resurfacing company that is VAT registered. That is because most of our competitors are 1-2 man bands. We are a proper company that will look after you.
Q – Can you replace taps and the waste for us?
A – That is a plumber's job. Unfortunately we are not insured to do this work. Although our chaps are frequently more than capable it is best to get a plumber in before we come to resurface the bath.
Q – What is the difference between resurfacing and re-enamelling?
A – When re-enamelling the bath it has to be taken off site to be fired in a kiln at 800 degrees Centigrade. This is the only way to re-enamel. If you see an ad saying re-enamelling in situ this is incorrect. The service in situ is bath resurfacing. Many companies do describe it as bath re enamelling as this is what communicates. However if someone is coming to your home then they are resurfacing your bath.
Q – I have a baby in the house. Is it safe with all the fumes?
A – This is something very dear to our heart. You will not smell fumes when we resurface your bath. We have spent 10's of thousand of pounds ensuring our system is safe for both the public and our technicians. We are fully health and safety complaint and our chaps are all trained in the specialist procedures and equipment required. We are so passionate about this we have zero tolerance to failures to comply to the training and we have let go of technicians who have failed to adhere to their health and safety training. We believe we are the only bath resurfacing company that has taken the steps to be fully health and safety compliant! We do not simply "open a window" and a door. If this is the full extent a company goes to to ensure your safety do not use them! They are not health and safety compliant and are putting you at risk for the sake of a buck or two!
Q – How do I decide between Resurfacing and Polishing?
A – Polishing should not be seen as a substitute for Resurfacing. Generally speaking a bath that needs to be polished will have less wear and damage than a bath that needs to be resurfaced. Polishing works well on a relatively new plastic bath but not on a cast iron bath or any bath that is chipped. We have found resurfacing is the best long term option, especially with older cast iron baths.
Q – How far in advance should we book a job in?
A – Generally speaking we are two to three weeks booked ahead. A little repair can however normally be booked in within the next 7-10 days. If your job needs done urgently we will do our best to fit you in. Fill in our quick quote form and we will let you know when we can get your job done.
Q – Can I dye my hair in the bath after it's been resurfaced?
A –  That is not advisable. Hair dyes are designed to penetrate surfaces. My wife does dye here hair all the time in our resurfaced bath. She does rinse the dye away very quickly but also has the luxury of being able to call on me if anything goes wrong. However we have not tested every hair dye on our surface. We do know if left on the surface for any length of time it will eventually penetrate the surface. So our recommendation is not to use the resurfaced bath or sink to dye your hair in.
Q – Can we still wash the dog in the bath?
A – Thats not a good idea. Dogs have sharp claws which will scratch the surface.
Q – Why would we chose your company to resurface our bath or bathroom suit rather than another company?
A – We are a proper company. We will look after our clients. We are not a one or two man band that is squeezing in as much work as they can in a day and doesn't have time to get to you if you have a problem. Or worse,  a company that seems to be a big company but actually is a 1-2 man band that covers their area and sells leeds to other companies. Try and get these guys back if you have a problem!
Our technicians have been through a fully training program with us. They are not self taught. They have studied how to do every aspect of the job, watched videos and drilled the job to perfection long before we come to do your bath. They have been fully trained in health and safety procedures. Their training is updated and improved. New techniques are taught to them. When advances are made in materials use or equipment use we train them again. We believe we are the only company that does this. They all have at least 7 years experience.
We do 1 bath a day. Others will do 2-3 baths a day. We take the time and care to prepare the job and do the job properly. This means we will do one bath a day. But the job is the best possible job.
Q – Are you the cheapest bath resurfacing company?
A – There is always a cheap way to do a job. Cheap materials and corners cut can make for a cheaper job. Squeezing in several baths in a day means the bath resurfacer can charge a bit less. We are not the "cheap and cheerful" company.  We don't want to be the cheapest but we do want to be the best. For the level of service we provide we are easily the best value for money you can get. Book us in to resurface your bath. You will be delighted.
As we resurface baths in London, Greater London, Bristol, Manchester, Leeds, Swindon, Tunbridge Wells, Brighton and all the Home Counties you will be able to find details of local offices on local Directories such as The Manchester Business Directory or on our local branches page. If in doubt fill in the quick quote form and we will let you know for sure if we can get to you.