Here are some of the most Frequently asked questions about Bath Resurfacing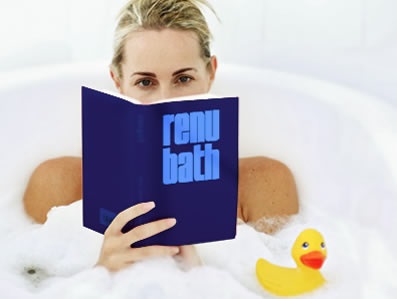 Q – How long does it take to resurface a bath?
A – between 5 and 7 hours.
Q – How long before you can use the bath?
A – The very next day.
Q – What is the life-span of a resurfaced bath?
A – By adhering to our After-Care advice and given average usage, baths can last up to ten years and even more! We have done baths over 20 years ago that are still fine.
The system and materials we use are the best. We have been using this system for over 30 years. We know it works and you can expect many years off use from your bath.
Q – Can you resurface my Shower Tray?
A – Yes.
Q – My bath is plastic. I want to resurface it because removing it would cost me a fortune in re-tileing and redecorating. Can you resurface a plastic bath?
A – Yes. We can resurface acrylic, plastic, pressed steel and cast iron- to any colour.
Q – Can I change the colour of my bath from a colour to white or white to a colour?
A – Yes. We can colour match on site to match your existing sanitary ware for a coloured bath and we can also make your bath, or even your whole suite, white. Please see the colour matching section to find out about colour matching and for our range of 24 pre-mixed colours and Match & Mix service.
Q – Can have the whole bathroom suite resurfaced?
A – Yes. We can resurface the whole suite, including the toilet, to any colour your choose. Fill in our contact form for more information and a quick quote.
Q – How should I clean my bath after it has been resurfaced?
A – The bath is very easy to clean after we have resurfaced it. Particularly if you have our Rolls Royce treatment. Most liquid cleaners such as liquid Flash can be used on a resurfaced bath. Do not use cream cleaners o a resurfaced bath as they will scratch the bath.
Q – Shall I have a Renubath treatment at the beginning or the end of my bathroom refurbishment?
A – As a general rule, all Renubath treatments should be undertaken after all other works are complete, such as tiling, decorating or any plumbing work. If you are planning on wallpapering that is best done after we have resurfaced the bath or bathroom suite. We mask up the whole room so new wall paper is best put up after we have resurfaced the bath. The application of a mastic sealant around the bath can be left until after we come. This can be applied by a Renubath operator in most cases, after the bath has been treated. However, if it will be a few weeks before we come then mastic should definitely be applied.
Q – Should I remove the taps and waste before you come?
A – There is no need. We mask around these. If however you want to replace the taps or waste you should do so before we come and resurface the bath. If the plumber accidentally chips the bath in the process there is no harm done. We will repair any damage when we come to resurface the bath.
Q – Can you replace taps and the waste for us?
A – That is a plumber's job. Unfortunately we are not insured to do this work. Although our chaps are frequently more than capable it is best to get a plumber in before we come to resurface the bath.
Q – What is the difference between resurfacing and re-enamelling?
A – When re-enamelling the bath it has to be taken off site to be fired in a kiln at 800 degrees Centigrade. This is the only way to re-enamel. If you see an ad saying re-enamelling in situ this is incorrect. The service in situ is bath resurfacing. Many companies do describe it as bath re enamelling as this is what communicates. However if someone is coming to your home then they are resurfacing your bath.
Q – How do I decide between Resurfacing and Polishing?
A – Polishing should not be seen as a substitute for Resurfacing. Generally speaking a bath that needs to be polished will have less wear and damage than a bath that needs to be resurfaced. Polishing works well on a relatively new plastic bath. We have found resurfacing is the best long term option, especially with older cast iron baths.
Q – Can we still wash the dog in the bath?
A – Thats not a good idea. Dogs have sharp claws which will scratch the surface. That's probably why you're getting the bath resurfaced now.
As we resurface baths in London, Edinburgh, Manchester Leeds, Bristol, Brighton and all the home counties you will be able to find details of local office on local Directories such as The Manchester Business Directory